Background

For nearly a Century the Prairie landscape has been dotted by the facades of unique looking wood grain elevators. No longer being used commercially, many of these structures are sitting abandoned and becoming health and safety hazards.
These elevators were built from pristine lumber. ABR Wood Solutions has developed a process that takes these structures down, but allows for the lumber to be re-used to create beautiful spaces to live and work in.
Do you have an elevator that needs to be removed from your Site


We can remove it for you. We will dismantle it and recycle the lumber. We will charge a fee but it is much less than the demolition fees charged by other companies. Your elevator will be repurposed into new homes, feature walls, and decks.
Enhance your spaces with beautiful, historic wood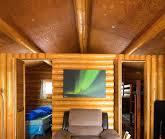 Are you looking for a special wall; unique wood; unusual old barn style material that will look gorgeous with your new cabin or home or deck. We can supply this. Call us and we will make arrangements for you to come and make your choice. Some of our products are in 600 sq ft, 900 sq ft and 1200 sq ft sizes. These can be combined to make larger units. They can become very beautiful homes for you at the lake on an acreage or even at some special location.
Contact us for more information. We will be happy to speak to you and help you with your plans.
See Products page